This is guest content from One a Kings Lane. They offer them to bloggers a lot, but I don't think I've ever published them before. These were so good, though, that I wanted to give it a try. I hope you enjoy it!


Inside Olivia Chantecaille's French-Chic SoHo Loft
The creative director of her family's cosmetics line gives us a tour of her art-filled, French-infused loft in New York's SoHo.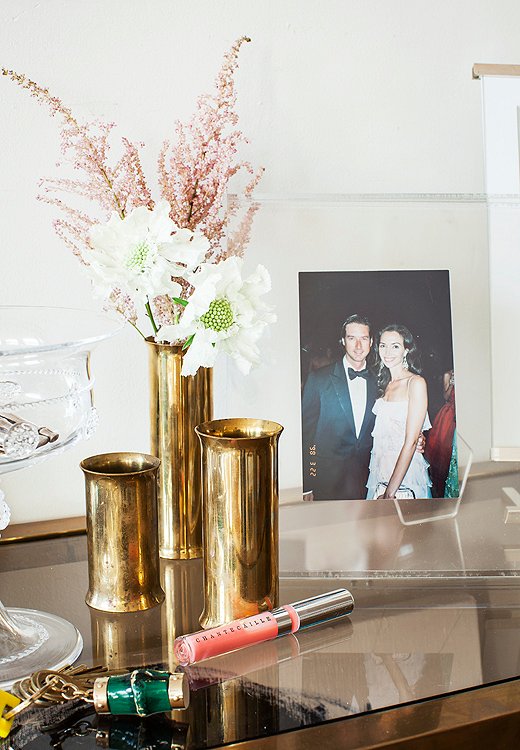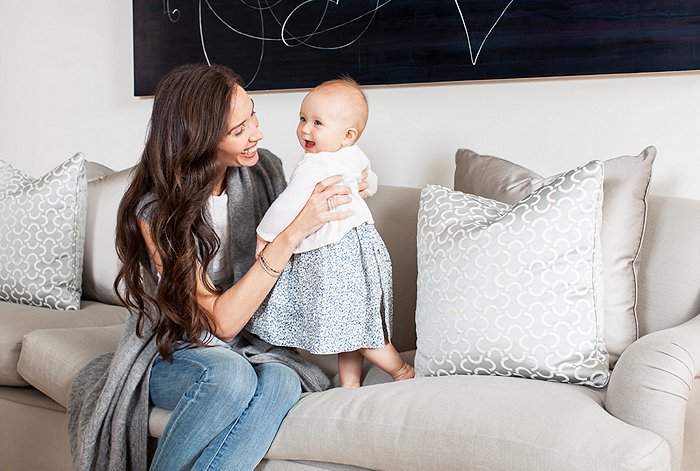 True to the legacy of New York in the 1960s, when SoHo lofts were inhabited primarily by artists, the home of Olivia Chantecaille and her husband, Ren Grady, reflects their passion for and connections with the art world. As modern-day collectors, they've befriended artists and worked with gallerists to amass a collection that confidently mixes Richard Serra and Will Cotton without sacrificing certain family-life realities. Their sitting room, dining room, and kitchen, all elegantly plotted onto a huge open floor plan a few stories above a quiet SoHo street, accommodates both entertaining and everyday living—which includes playing with their 10-month old daughter, Delphina.
Olivia may now be a New Yorker, but she's also very French in both her day to day (she speaks to Delphina only in her native language) and her approach to decorating. Growing up steeped in French antiques and heavily influenced by her grandmother's Parisian apartment, Olivia confidently blended classical pieces into a decidedly nonclassical space without missing a beat. Such design aplomb called for further inspection, and we were thrilled to be invited over for a visit.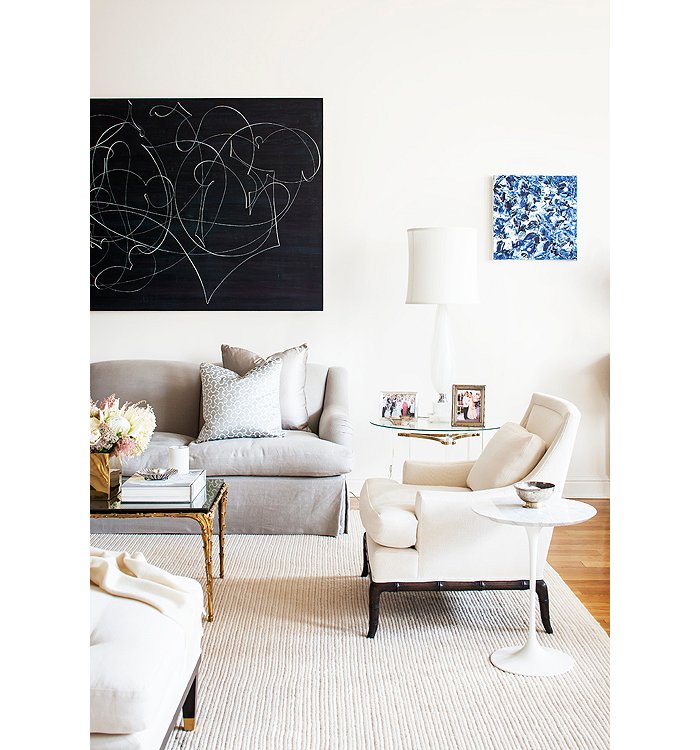 THE LIVING ROOM
As the creative director (and face) of her family-run cosmetics line, Chantecaille, Olivia is a leading expert on color—including how and when to use it. "I approach decorating the same way I approach makeup," she explains. "I love a very clean, natural palette as the base, which in an interior means whites, creams, and grays. And then I add touches of color through art and books instead of wallpaper or big fabric patterns. The art floats above the natural colors, so it really stands out." Case in point: the main sitting area, where the white and gray furnishings are elegant, inviting, and begging for the graphic jolts of energy delivered by the art on the walls, including a piece by friend Elliott Puckette.
While some parents might hesitate about so much white, Olivia thinks of the space as a soft, inviting landscape for Delphina as she crawls around. "Nothing is too precious," she points out, "my main thing is just keeping everything really clean for her."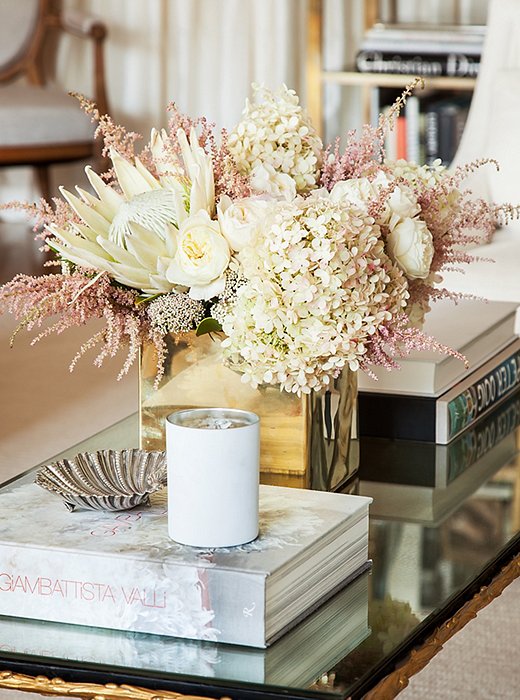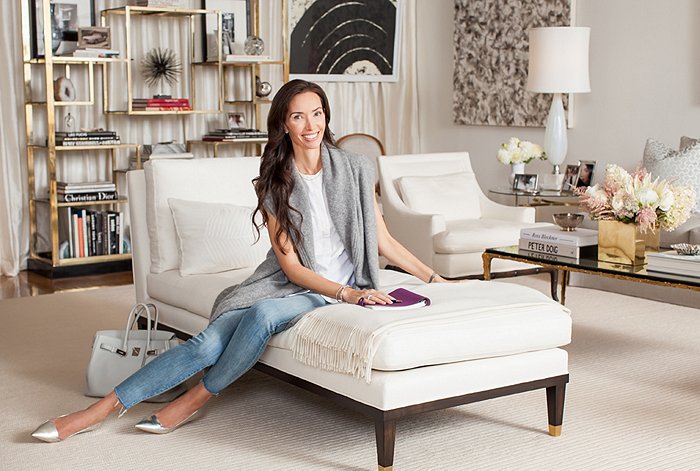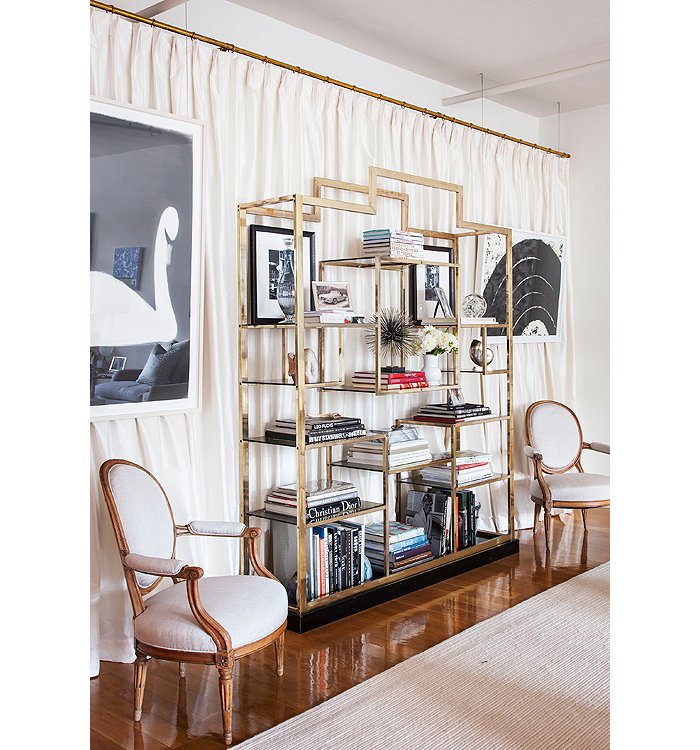 THE BOOKSHELVES
Along with art, books play a leading role in the family's loft. Grand-scale bookshelves are sculptures unto themselves, and monographs on artists including John Singer Sargent, Cy Twombly, and Peter Doig are prominently on view alongside lush fashion and lifestyle books featuring the photographs of Cecil Beaton, Slim Aarons, and others. Each shelf is like a lesson on how to make a perfect vignette: Pile books by color, and perch one strong accent atop each stack. You'd never guess it, but behind that elegant white curtain is a "secret closet," which Olivia's husband built with Home Depot supplies to house her racks of clothing and shelves of shoes.
"I'm not afraid to mix metals in a room—I don't consider it a decorating don't. I'm the same with jewelry!"




—Olivia Chantecaille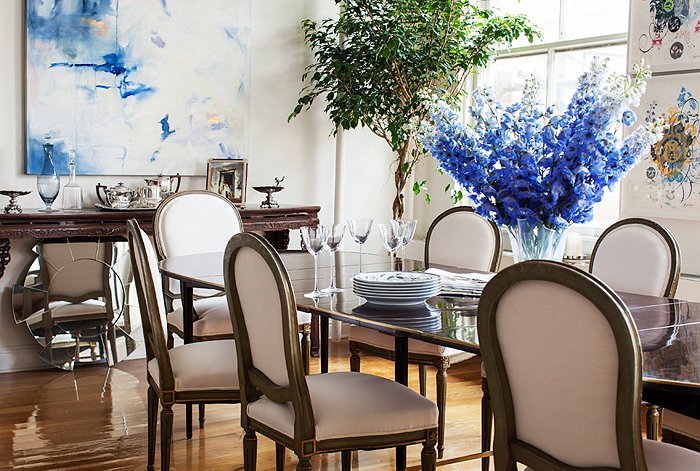 THE DINING ROOM
Olivia's French heritage really comes out at mealtimes. She believes in setting a proper table, even for casual family evenings, and Delphina, perched in her high chair, is slowly getting used to longer meals when Olivia's entire family is gathered. "We really put away phones and banish technology. And no plastic containers or paper napkins!" The room's key pieces are the Louis XVI chairs, some of which were a gift from Olivia's grandmother, who grew up in Paris; Olivia found the others in the same style to complete the set. To bring a bit of nature into the urban space, she makes regular trips to Chelsea's flower district. "We use lots of natural botanicals in Chantecaille products, and I do the same at home," says Olivia. As for the large ficus tree in the corner, it's also serving a secret function: "Plants are the best air filters in the city!"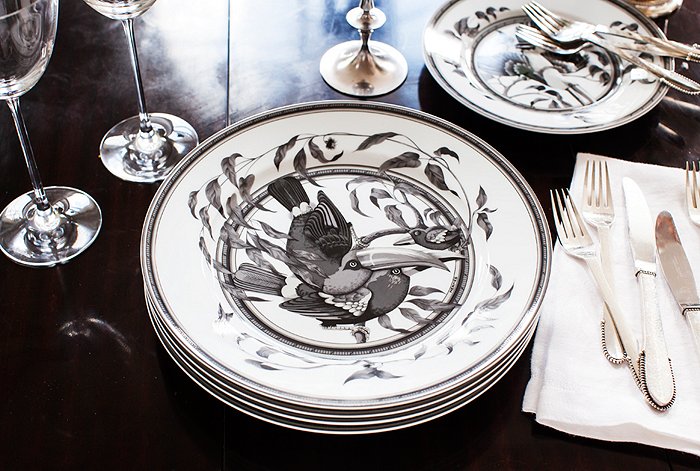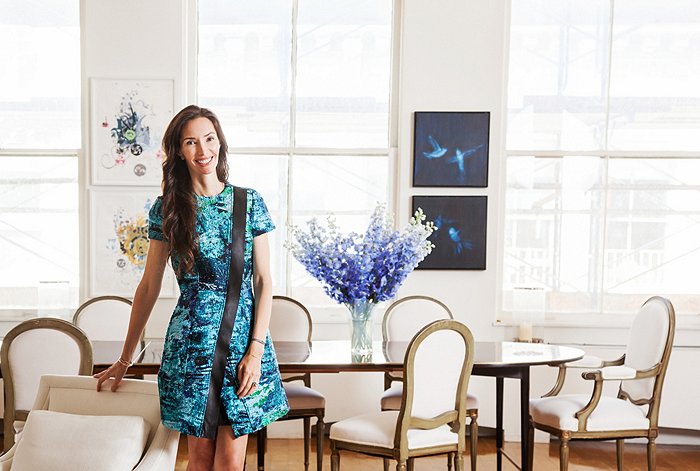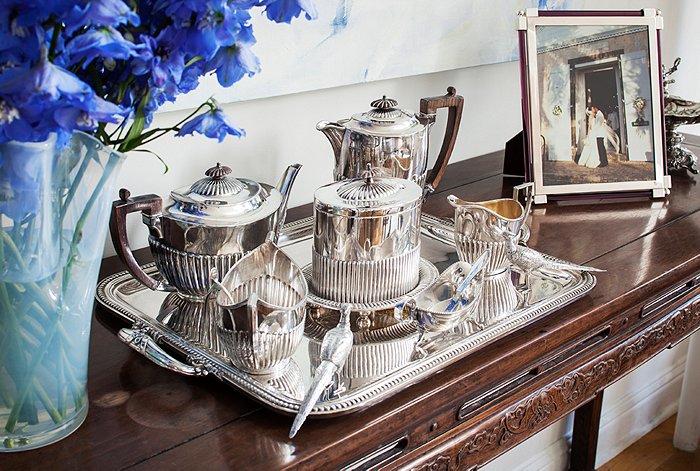 "For me, a great dinner party is good friends, family, tons of flowers, delicious food, and nowhere to be in the morning."




—Olivia Chantecaille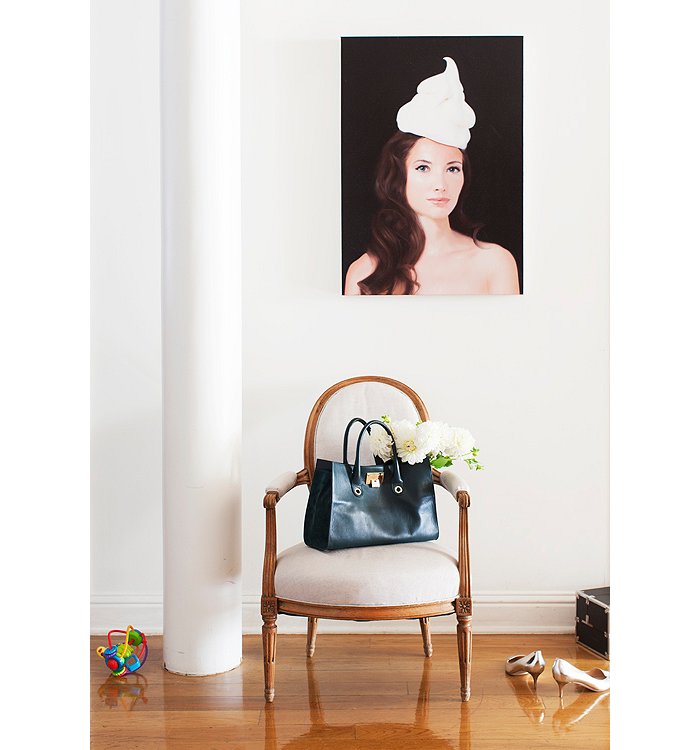 THE HALLWAY
A striking portrait of Olivia by New York painter Will Cotton, a close friend of hers who's known for portraits that eschew reality in favor of candy-fueled fantasies, energizes an otherwise simply decorated portion of the hallway. The detritus of daily life is contained by well-placed drop spots throughout the loft, such as this Louis armchair.
"I work with my family—including my mother, who founded Chantecaille, and our offices are also in SoHo. So there's some fluidity between work and home!"




—Olivia Chantecaille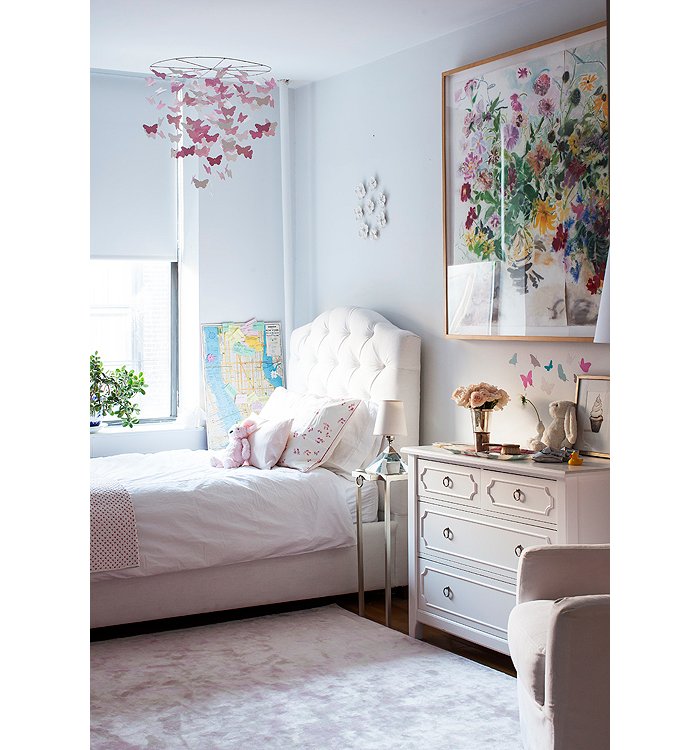 THE NURSERY
Delphina's bedroom is unabashedly feminine, but it's worth noting that the same palette of grays and whites used in the living room extends to the nursery. In an homage to summers spent outdoors, butterfly decals climb the wall, a cluster of roses and silver shoes gather on the dresser, and a larger flower pastel by Alex Timchula, a family friend, dominates the room. "I love flowers, and this was my way of having an indoor garden that blooms year-round," says Olivia. The idea of a nursery as an imagination-fueling, transporting world comes from Olivia's own childhood. "My parents painted the most magical scene filled with jungle animals all along my bedroom walls. I wish I had been able to keep it in some way to share with my daughter now."
"My style can be summed up as lots of light, art, and flowers. I want you to take a deep breath when you walk in the door."




—Olivia Chantecaille